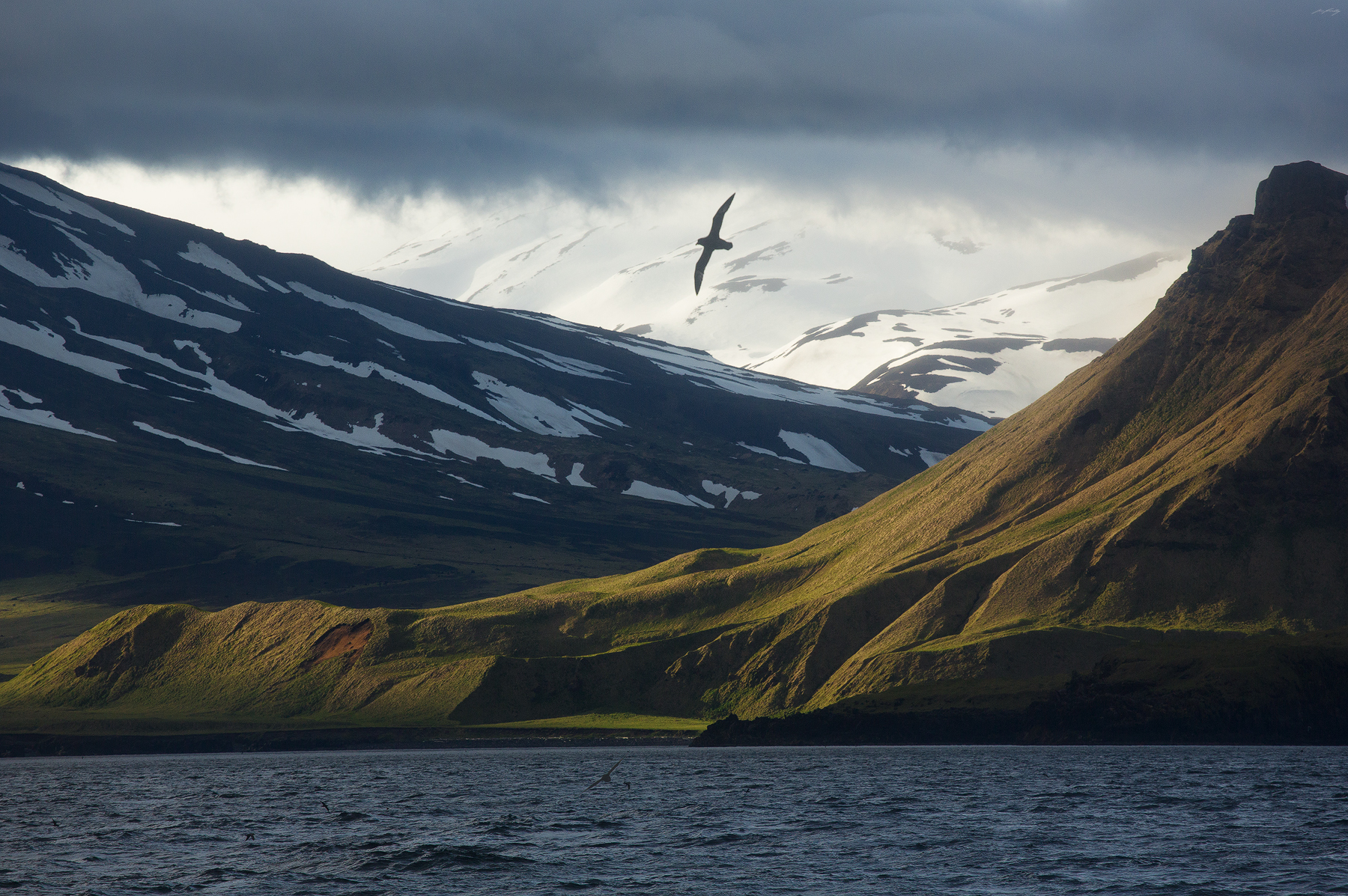 Essence of Atka
Morning light glances the slopes of Atka Island as a Northern Fulmar arcs past.
Pacific Ghost
A Laysan Albatross flies low across the surface of the North Pacific Ocean on a foggy day.
Receding waves form interesting patterns in a sandy beach, the colour of which is likely the caused by the presence of olivine.
King Tanaga's Throne
A large bull Stellar Sea Lion at rest on a small, rocky islet inside Little Tanaga Strait.
Life on the Edge
A colony of Thick-billed Murres and Common Murres.
A Tufted Puffin in flight. Beyond, a large waterfall plunges down the steep coastal cliffs of Amlia Island.
Lost
A lone Whiskered Auklet, afloat on the glassy surface of the Bering Sea.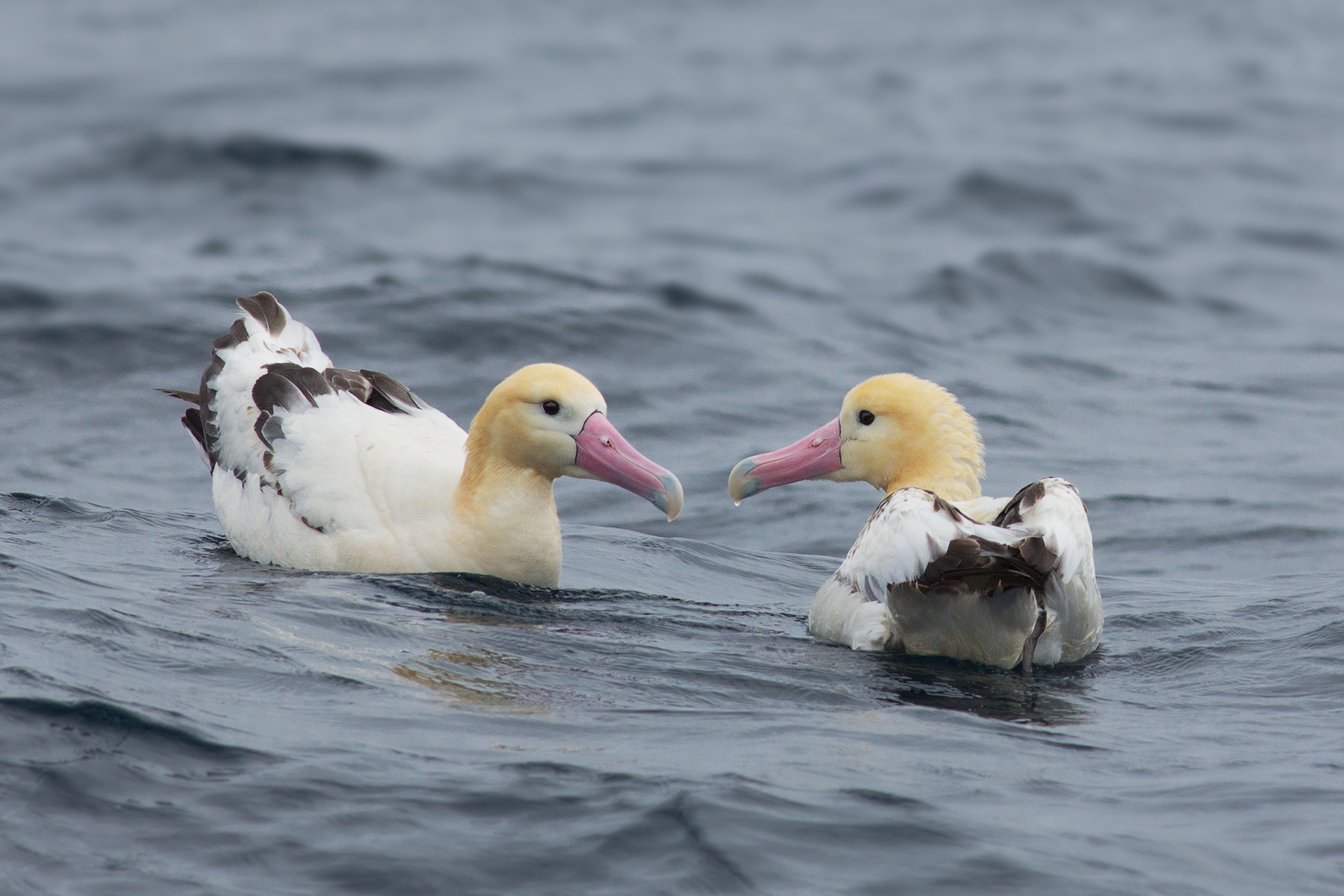 Reunited
Two adult Short-tailed Albatrosses interact while afloat on the surface of the North Pacific Ocean. This species was persecuted to the brink of extinction during the early 20th century. The feather trade was thought to have brought their numbers to a mere 40-50 individuals. Through conservation efforts, the population has slowly climbed to approximately 2,200 individuals that breed on three small Pacific islands. To see two of these tremendously rare and regal birds, side-by-side, in the middle of such an immense ocean was an incredible experience.
Sperm Whales
A group of three Sperm Whales on the surface of the Bering Sea. Before diving to depths sometimes exceeding 2200m, with trips known to last over 90 minutes, these whales rest at the surface, exhibiting a behaviour called "logging". Allowing time to re-oxygenate their blood which contains special proteins called myoglobin, they can make repeated dives to great depths where they hunt giant squid. Males travel to the bio-rich waters of the North Pacific Ocean and the Bering Sea during the summer in order to feed.
Laysan Dusk
A Laysan Albatross cruises over the Bering Sea as dramatic sunset light penetrates stormy skies.
Aleutian Assemblage
An impressive aggregation of seabirds, including Laysan Albatross, Black-footed Albatross, and Northern Fulmars float on the surface of the North Pacific.
A massive flock, mostly consisting of Crested and Least Auklets lifts off a coastal rock formation on Kiska Island. Two explosive eruptions in the mid 1960's released large lava flows, the cooled rock of which is now occupied by millions of nesting seabirds each spring.
The Breakup
A pair of Horned Puffins swim away from one another while foraging at the entrance of a large sea cave.
Aleutian Terns
A pair of Aleutian Terns poised on a rocky shoreline.
A flying Northern Fulmar is dwarfed by the massive flanks of Mount Korovin - an active volcanic peak which rises over 1,500m out of the Bering Sea.
Bald Eagle
An adult Bald Eagle in flight. Large gaps between islands have impeded this species from expanding it's breeding range westward to the archipelago's terminus.
Crested Auklets travelling to offshore foraging sites, just after sunrise. Beyond, 1800m Tanaga Volcano rises up from the mist.
Snowy Dreams
Two Snowy Owl chicks, born the previous day, await the hatching of their siblings. The Aleutian Islands represent the southernmost breeding sites for this generally Arctic species. The relatively warm weather and lack of terrestrial predators make this a far more hospitable place to rear young.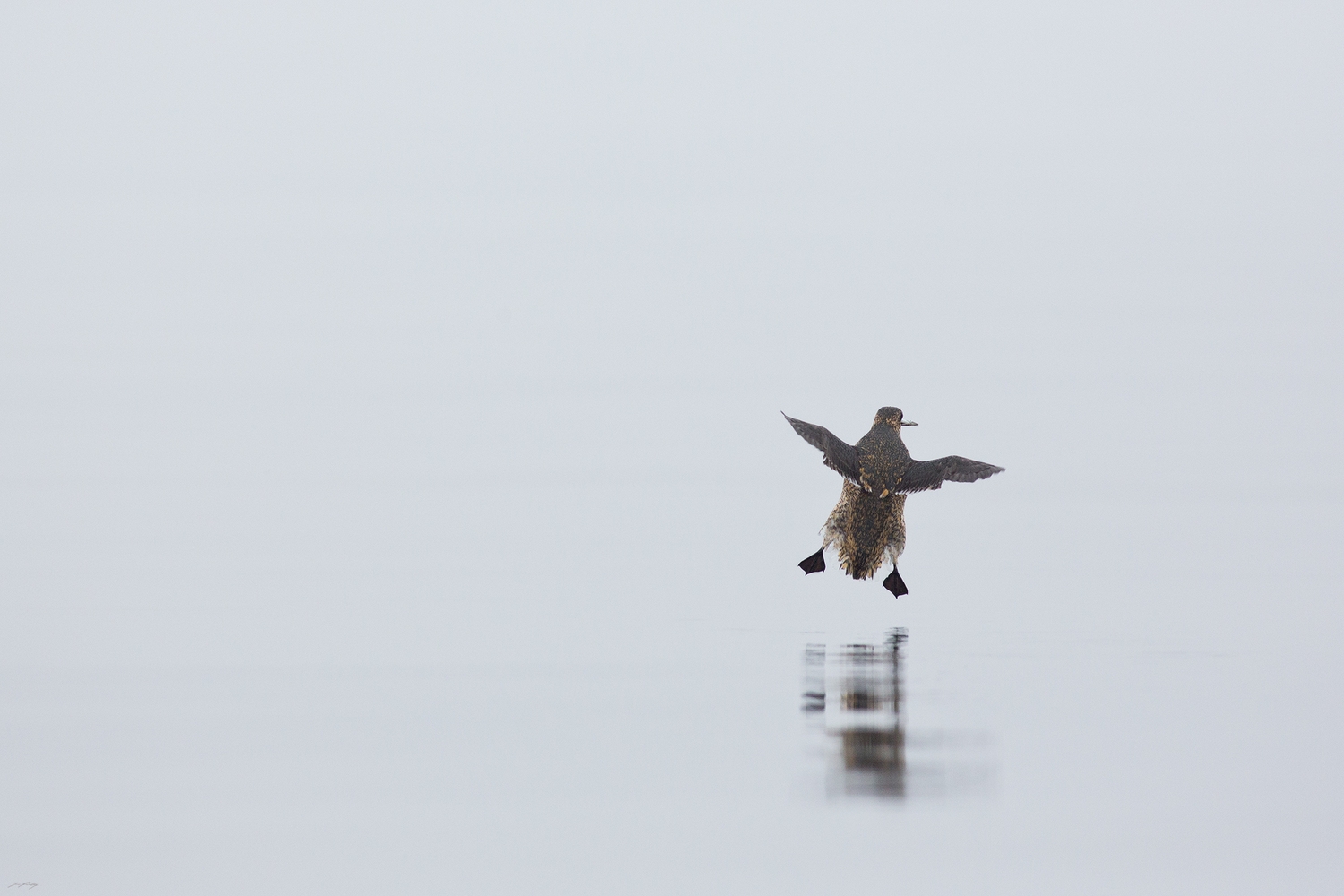 With a sand lance in it's grasp, one of the world's most endangered seabirds prepares to land on the calm waters of a sheltered bay. Until quite recently, it wasn't known where Kittlitz's Murrelets go to breed. Efforts by ornithologists revealed that females lay a single egg on the precipitous, rocky slopes of tall mountains in very limited areas of Alaska and Siberia. Once nestlings reach fledging weight, they make their way down to the ocean - some believe they clumsily fly, others believe they travel down rivers.